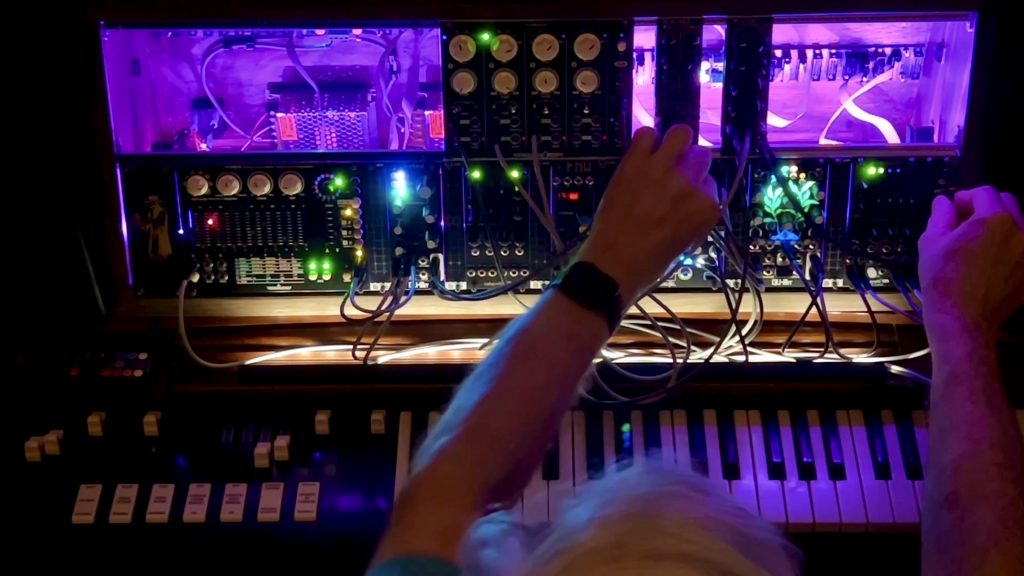 Tonight I took my first steps in creating generative music with the modular synth. After studying the manuals to several of the modules I'm beginning to explore a little more deeply into their complex inner workings.
From Wikipedia; "Generative music is a term popularized by Brian Eno to describe music that is ever-different and changing, and that is created by a system."
Or to put it another way, as Eno himself has said, "Generative music is a lot like gardening, you set up the parameters but the garden grows by itself"
So this is my first attempt at making such music. Check it out on the Video page. The piece begins with a preprogrammed rhythm and melody as I bring in several elements manually such as adding reverb, mixing in a manipulated recording of the melody which is shortened and offset in time, and turning on randomized accents to the melody line notes. Then around the one minute mark you will see me turn off two green lights near the left side of the panel.
That's when things get interesting because what I'm doing is turning off the predefined rhythm and pitches of the melody. At that point the system takes over and begins randomly generating the pitch and rhythm of the notes, as well as the accents. All of those parameters have probability limits determined by me, so this is not AI but rather the machine improvising according to the instructions that I've given it. Unlike AI, it's not recombining data that was made by someone else, but rather generating it on the fly.
Anyway, the bottom line is that I'm having an absolute blast learning about, and experimenting with this stuff. It's exactly the reason that I decided to build a modular synth. I wanted to break out of musical patterns and routines that I've been doing all my life. This is giving me a completely fresh approach and opening me up to new ways to be creative.